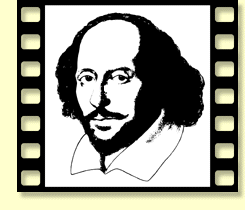 ADAPTING SHAKESPEARE
TO FILM
by Gail M. Feldman
For the last 400 years there's been a whole lot o' Shakespeare goin' on, and despite a few minor wars, an industrial revolution, the doubling of the average human lifespan, the explosion/expansion of the English language and, most recently, a century full of "crimes of the century" (which you'd think would render old melodramas passé and old comedies full of clunkers), there seems to be no end in sight. The Bard remains popular enough to withstand all that and the permutations of his work at the hands of would-be modernizers as well. His plays have been (and continue to be) staged, balleticized (Romeo and Juliet being scored by no fewer than three of the majors: Berlioz, Prokofiev and Tchaikovsky), operaticized (most notably Verdi's Othello and Macbeth), and taught and studied until it's a wonder any student can stand Shakespeare at all.
Thanks to the aforementioned Industrial Revolution, in the last 97 years there have been no fewer than 275 film and (later) television adaptations (and our list may not be comprehensive): three King Johns (one of them Sir Herbert Beerbohm-Tree's 1899 silent film); 22 Othellos (including George Cukor's A Double Life and Michael Relph and Basil Deardon's jazzy All Night Long); seven Tamings of the Shrew (including George Sidney's musical Kiss Me Kate); 12 Merchants of Venice; 24 Macbeths (including Kurosawa's Kumonosu Jo, Patrick McGoohan's rocking Catch My Soul, William Reilly's Men of Respect, the 1916 The Real Thing at Last, and Ken Hughes' Joe Macbeth); 16 Julius Caesars (including Godfrey Grayson's An Honourable Murder); 10 As You Like Its (including the 1915 Love in a Wood); nine Antony and Cleopatras (two of them called, simply, Cleopatra); 18 A Midsummer Night's Dreams (including Woody Allen's A Midsummer Night's Sex Comedy); 16 King Lears (including Kurosawa's powerful Ran); three Henry IVs (two of them being Parts 1 and 2 and the third showing up in the guise of 1991's My Own Private Idaho), seven Henry Vs, three Henry VIs (again, representing parts 1, 2 and 3), and two Henry VIIIs; one combination of Henrys IV and V, with The Merry Wives of Windsor thrown in for good luck, in the form of Orson Welles' Chimes at Midnight; five unadulterated Merry Wives of Windsors; nine Much Ado About Nothings (including the 1912 Saty delaji cloveka, the 1956 Mnogo Shuma Iz Nichego and the 1963 Viel Lärm um Nichts); five Richard IIs and six Richard IIIs (the latter including Rowland V. Lee's Tower of London and Al Pacino's Looking for Richard); 24 Romeo and Juliets (including Peter Ustinov's Romanoff and Juliet, Martha Coolidge's Valley Girl, Lloyd Kaufman's dubious Tromeo and Juliet, Larry Trimble's silent 1912 Indian Romeo and Juliet, Coline Serreau's Romuald et Juliette, and Robert Wise and Jerome Robbins' film adaptation of Leonard Bernstein, Stephen Sondheim, Robbins' musical West Side Story and Baz Luhrmann's William Shakespeare's Romeo + Juliet starring Leonardo DiCaprio and Claire Danes); four Cymbelines and three Measure for Measures; four Coriolanuses; two A Winter's Tales; seven Comed[y]ies of Errors (including A. Edward Sutherland's The Boys From Syracuse); five The Tempests (including the 1956 Forbidden Planet and Peter Greenaway's Prospero's Books); two Love's Labours Losts; three All's Well That Ends Wells; one each of Timon of Athens, Troilus and Cressida, Titus Andronicus and Pericles, Prince of Tyre; and a whopping 40 Hamlets.
With all this celluloid, kinescope and videotaped Shakespeare in our collective library, we may be forgiven for asking, "Do we need more? Is there even room for more?"
In the case of Kenneth Branagh's Hamlet, the answer is a resounding "Yes!"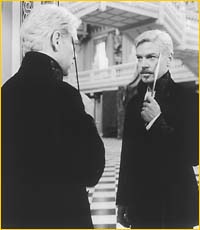 Photo by Peter Mountain

To be or not to be: Kenneth Branagh in Shakespeare's Hamlet (Castlerock 1996).

We've seen a female Hamlet (Sarah Bernhardt in the 1900 silent French film); a couple of Indian Hamlets, a veritable flood of Italian Hamlets, mostly silent; and Swedish, Russian, German, Ghanaian, American, Canadian and Brazilian Hamlets. One Hamlet was played by John Byron, who also appeared as Oberon in two televised productions of A Midsummer Night's Dream (in 1946 and 1947) but whose next project was Deep Throat! We've been presented with mad Hamlets, weak-willed Hamlets, Oedipally fixated Hamlets and even a peripheral Hamlet (in Rosencrantz and Guildenstern Are Dead). In one 1976 film version, Hamlet and Laertes were each played by two actors (Anthony and David Meyer), whereas one actress (Helen Mirren) played both Ophelia and Gertrude. Among recent (talking) portrayals are Olivier's overwrought Hamlet, Burton's beautiful, effortless Hamlet; Williamson's eccentric Hamlet, Chamberlain's oversimplified Hamlet, Gibson's valiant attempt, and now adapter/producer/director/actor Branagh's Hamlet: a grieving son, a betrayed (and betraying) lover, a skilled warrior and, finally, a man who counts on a play "to catch the conscience of the king" but fails as a result of his own tortured conscience. This version is also unique by virtue of its focus less on the reason for Hamlet's failure than on its international consequences.

Branagh wanted "the chance to connect the very personal domestic story that's at the heart of the play with the epic complications and consequences that occur when a family crisis is happening to a royal family, who have direct political power, so that their trouble - the breakdown of communication between a mother and a son - suddenly ends up affecting an entire nation. The map of Europe is redrawn by the end of the play. That's an incredible feat, to bring this off. It's never been done before."

Until now the longest Hamlet was the 165-minute televised WNET TV/New York Shakespeare Festival coproduction, in which Kevin Kline directed himself as the Danish prince. Branagh's clocks in at 238 minutes and grants audiences a midpoint intermission. Branagh explains, "Hamlet had never been done in its full-length version before. I believe that's a great way to see it; it's easier to follow. I think it's quicker that way. There are numerous short versions of Hamlet which play much longer - I've seen many one and a half hour films that have seemed much longer.

"In the theater, when it's shortened, I feel as though the intensity is constantly in there and it's hard to absorb - the actors are actually much slower. I've never seen it full-length but the last production of it that I was in for the Royal Shakespeare Company, about three years ago, was full-length, at my insistence, and it played on the radio. It was a much more comfortable playing experience and all the acting was quicker. People are prepared to sort of throw things away a little more. There was a healthy, casual quality to some of the dialogue. It meant that not everybody was playing every moment as 'art.'"

Branagh also appreciated the chance to "go from the very intimate to the very epic in a few scenes. And I think you get the great mix of all the murder and sex, suicide, madness, ghosts, all these great page-turning elements, with a great emotional punch which comes from seeing Shakespeare being so deft with the structure, so he'll lead you to big, intense set pieces; he'll change the atmosphere; he'll uncover the humor." He adds, "People had sex 400 years ago; that's why we're here."

Showing Hamlet and Ophelia (briefly) in sexual union (and playing their relationship with that subtext) may not represent a modernization but the early Victorian costumes do... sort of. We have seen Macbeth played in nondescript black turtlenecks and pants and early 20th century suits, with plenty of shadows to turn the bare stage into Scottish gloom; no one could mistake west-side Manhattan for Verona of any era. Kate Winslet, who plays Ophelia, says of the garb, "To put it in such a period, when everything was so bright and vibrant and on the change, to me just made absolutely perfect sense, especially with a piece that was very passionate and profound, as Hamlet is."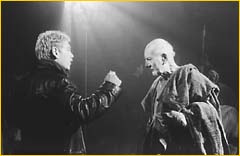 Photo by Rolf Konow
Kenneth Branagh directs John Gielgud in William Shakespeare's Hamlet.
The small but vital role of the Player King went to Charlton Heston, no stranger to period films. His pantsless film roles have included Marc Antony in both Antony and Cleopatra and two versions of Julius Caesar, Moses in The Ten Commandments, the title roles in Ben-Hur and El Cid, John the Baptist in The Greatest Story Ever Told, Michelangelo in The Agony and the Ecstasy, King Henry VIII in Crossed Swords, Cardinal Richelieu in The Three Musketeers and The Four Musketeers, Sir Thomas More in A Man for All Seasons, and of course the scantily clad George Taylor in Planet of the Apes and Beneath the Planet of the Apes. None of his five stage Macbeths wore trousers either. Heston, who once grumbled that he intended in the future to play only roles in which he could wear pants, nonetheless had no complaints about his costume for Hamlet. "No, I don't mind," he says. "I've done very well going around half-naked."
The attire may have been updated but the language wasn't. "One of the finest bits of acting in the film, I think," says Branagh, "is in the plotting scene between [Claudius] and Laertes - a scene often cut, which is very simply shot, with a very complicated text, and he makes it seem as if it's just coming out of his head for the first time. You understand everything and you get a real insight into Claudius and his descent from a moment when he is so besotted with Gertrude that he says 'That, as the star moves not but in his sphere, I could not but by her.' From there he is talking about 'There lives within the very flame of love a kind of wick or snuff that will abate it' - and suddenly, by the end of that scene, becoming a survivalist, who says, 'not only poison the sword, but let's put some poison in the drink as well! I have to survive! Fuck her!'
Derek Jacobi (Claudius) suggests that the scene "is very modern, isn't it? It's usually cut - heavily truncated at least - because in the theater, at least, it comes to the point where we've been going for about three hours and everyone's very keen to get to the duel! And also, when you read it, it is a very, very difficult scene; the speech is very tightly written, and very complex, full of parentheses. So I can imagine that theatrical Claudiuses are relieved! But it does demonstrate many aspects of Claudius' character. You get the real essence of the man."
Branagh has now played the prince four times, the first time directed by Jacobi, who says "I think he has matured. He's acquired a stillness and an introspection that served him very well."
The object of this praise says of his current portrayal, "I think that [Hamlet] has become more complex, for me, in my version of it over the years - less hectic."
"I think we played a mad Hamlet early on" muses Branagh. "There's nothing really in the text to support the idea that he is mad, or in fact that he has an Oedipal complex about his mother. It's often effective to use it, but it doesn't actually come out of the lines. His madness is always assumed and it's always supported by wit and intelligence, and is quite distinct from Ophelia's, which is much more the product of a genuinely distracted and broken imagination."
Branagh surprised many by casting Julie Christie, who had no Shakespearian background, as Gertrude. "The role of Gertrude," he says, "is extraordinary, in relative terms. If Shakespeare, rolling in his grave, will forgive me, it's an underwritten part. She has less to say than the first gravedigger. It was important to me that both the women's roles had a chance to be expressed in ways that the theater probably didn't allow, in that you could see an illustrative flashback, or you could see in close-up reaction the impact that these very important characters have on the story in a way that it is not possible to do in the theater, where she's in so many scenes but has so little to say. And it's very hard to draw focus to her in the same way in the theater. So you get someone like [Christie], who has this intelligence, this sexuality, passion and honesty, reality - and remains so mysterious as well."
"She has much that we could learn from," says Jacobi. "She has more experience than all of us."
Of the also "underwritten" Fortinbras, played here, almost entirely in silent flashback, by Rufus Sewell, Branagh reminds us, "In many of the previous filmed versions he does not appear. He's briefly in the Russian version but not in the Zeffirelli one, not in the Olivier one. "The other part of the story is that Denmark is arming for war. It's very hard to convey that in the theater, even though it's spoken about. [Film allows] the opportunity to refer to this menacing figure, this decisive man on the borders, who is ready to invade at the slightest sign of vulnerability. I think it adds a sort of wonderful, brutal inevitability; for all that Hamlet might be going through a terrific life crisis, that's of no interest to a man like Fortinbras. 'Denmark's weak? Thank you very much, more power for me! Fine!' It's one of the things that make for the larger political dimension, so that you're aware that Claudius is dealing with this Hamlet crisis but he's also got a national crisis going on. He's got to deal with Fortinbras."
Not underwritten but invariably pared down is the scene in which the Player King and his comrades perform, at Hamlet's request, The Murder of Gonzaga. Based on the pared-down versions with which he was familiar, Heston was not initially enthusiastic about accepting the role. "[Branagh] called me from London," says Heston, "and I said, 'Gee, that's a very interesting idea. I suppose Claudius is taken? Thank you very much....' There aren't very many other good parts! And he said, 'The Player King,' and I said, 'Ken come on! That's almost...you can do that just with mime, pouring the poison in the king's ear!' And he said, 'Not in this one. It's the entire text. Have you seen it before?' I said, 'No I haven't,' 'Well, you read it.' And I said, 'You're on.'
"It is, of course, the pivotal action of the whole first third of the play," he continues. "It confounds Claudius as no other confrontation Hamlet could offer would do. What's he going to do, go into his office and say, 'You killed my dad'? That's going to get him somewhere: in jail, probably! But he does concoct this idea of using a bit of an old play; he says to 'commit 12 or 15 lines.' And it becomes more and more clear that it is a direct attack on Claudius. It's a brilliant idea!'
As for the current classical craze, he notes, "The pictures that have made any money helped promote that. It all gets back to Shakespeare in the end, you know. He's the one responsible for it, and we all ride on his coattails. I guess it goes in cycles. There's a current wave of directorial interest in it, but, it seems, also audience interest. It's a kind of cool thing to do now, or at least it's not uncool!"
"I've played Hamlet so many times myself," remarks Derek Jacobi, now cast as Claudius, "that I've heard various Claudiae delivering these lines so many times, and yet I've never had to learn them myself! When I actually learned them, of course I paid more attention to them, and I saw things in Claudius that had never occurred to me before. My first response was "Why me?" because I didn't really see myself as anybody's first choice and I suppose I'd gotten into my head, 'villain; baddie.' Of course the secret of it is that not until a third of the way through the play is there any indication from Claudius that he is anything other than a regular guy, a very successful man - popular, good at his job, smiling, sensitive, a good politician and tactician - and seems to have got it all. It's only when you get into the play that you realize there's a worm inside that soul and it's being eaten away from the inside."
Branagh concludes, "It's also about how to be happy. It's a great piece of poetry. It's mysterious, it has impact on people. It gets under their skin. It really engages with their spirit. The idea of offering a cinematic treat, with fantastic designs from a group I'd worked with a long time, and a 70mm treatment... What a great canvas - why would I not do it?"


Inside Film Home | News & Views | Film Fests by Month
Screenwriting | Past Articles
All Inside Film logos, artwork, stories, information and photos are
© 1997-2020 Inside Film Magazine. All rights reserved.
Do not duplicate or distribute in any form. All other logos,
artwork and photos are © their individual owners.