THE CREATOR SELECTED AS GRAND PRIZE WINNER OF 2020 DTLA FILM FESTIVAL'S SCREENPLAY CONTEST
Ben Everhart received the top award at DTLA for The Creator, his screenplay about how the unlikely collaboration between Gene Roddenberry and Lucille Ball produced the multi-billion-dollar "Star Trek" franchise – the first-ever prime-time science fiction show for network television.
Everhart won a virtual table read with 30 actors, to be taped and presented to the public.
He said, "Gene Roddenberry created 'Star Trek' during the 1960s, in the midst of the Civil Rights movement. He used the show to make a political statement, to champion diversity and positive representation. He was one of the first to cast people of color in leadership roles and embrace storytelling with racial, political and philosophic themes."
For more info: www.dtlaff.com

THIS YEAR'S ACADEMY NICHOLL SCREENWRITER WINNERS ANNOUNCED
In 1986 The Academy of Motion Picture Arts and Sciences launched The Academy Nicholl Fellowships to identify and encourage talented new screenwriters. Since then, 166 of the prestigious fellowships have been awarded in this global competition for first-time screenwriters.
The 2020 winners are: James Acker for Sadboi, Beth Curry for Lemon, Vanar Jaddou for Goodbye, Iraq, Kate Marks for The Cow of Queens and Jane Therese for Sins of My Father.
Each winner receives a $35,000 prize and their scripts will be highlighted at the Academy Nicholl Fellowships in Screenwriting Awards and Table Read by an ensemble of actors on December 3.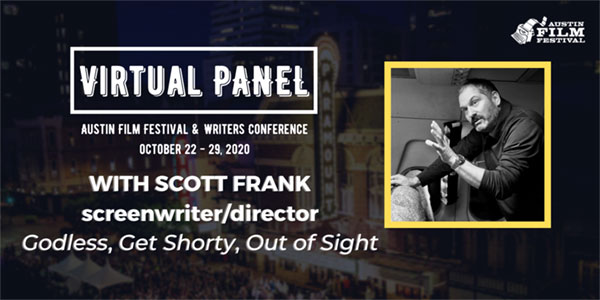 Screenwriter/director Scott Frank (Godless, Get Shorty, Out of Sight) will join this year's Virtual Conference for an online panel with his longtime researcher Mimi Munson. The two will discuss their collaboration and explore the vital role that research plays in the writing process.
This year's Virtual Conference will run from October 22 – 26th and will feature numerous online panels, conversations, roundtables, and networking sessions with some of the biggest names in screenwriting.

BLUECAT SCREENPLAY COMPETITION SUBMISSION DEADLINES FOR 2021
Regular Deadline: September 13, 2020
Final Deadline: October 25, 2020
Late Deadline: December 13, 2020
Final Resubmission deadline: February 15, 2021
Finalists will be announced on May 11, 2021.

SCREENWRITING BOOKS TO HELP YOU DEAL WITH READERS
by Susan Royal
Getting Past Me: A Writer's Guide to Production Company Readers
by Mindi White (Limelight Editions)
This excellent book sheds light on what story analysts are really thinking. One of the particularly useful chapters is entitled "Kiss of Death," and warns against something as seemingly innocuous as putting one's profession on the title page, as with "M.D.". or "Esq." because readers have read a lot of terrible scripts written by doctors and lawyers. Other no-nos include racism, sexism, rape as comedy and plagiarism. Says the author: "I gleefully point out blatant theft in my coverage. I'm not alone. Do not steal. You'll be so busted."
Screenwriting Tips, You Hack by Xander Bennett (Focal Press) evolved from the blog of the same name by a former Hollywood script reader. Lots of insight and tips, including:
"Tip #32: The setting is like another character, so try to make it as three dimensional and interesting as all your other characters."

"Tip #92: Always remember that funny trumps everything. Your script could be written in crayon with your name spelled wrong on the cover, but if it's genuinely, screamingly funny, none of that matters."

"Tip #124: A quick and dirty rule for action paragraphs – nothing longer than three lines. Try to stick to it – you'll be amazed at how economical your description becomes."

"Tip #150: If you're going to break the rules, do it in spectacular fashion. That way it's obvious you are breaking the rules, not ignorant of them."

SCREENWRITER-FRIENDLY FILM FESTS
This section (updated regularly) lists screenwriting competitions and sidebars associated with or sponsored by film festivals.
WORKSHOPS & SEMINARS
Some film festivals present industry workshops, labs and conferences on the subject of screenwriting:
The Austin Film Festival was the first film fest dedicated to celebrating the writer as the heart of the collaborative filmmaking process. The festival holds a Heart of Screenwriting Conference and Competition which attracts major screenwriters and producers as speakers.
www.austinfilmfestival.com
The BlueCat Screenplay Competition has a BlueCat Lab, which accepts pitches and shorts along with feature screenplays, with a chance for three writers to come to Los Angeles and workshop their projects with local professionals and mentors. www.bluecatscreenplay.com
The Los Angeles Film Festival presents "Coffee Talks" with a panel of screenwriters and holds a 7-week Screenwriters Lab.
www.lafilmfest.com
The Nantucket Film Festival offers a number of panels focusing on screenwriting as well as a series called "Morning Coffee With...", which enables festival-goers a chance to meet with screenwriters.
www.nantucketfilmfestival.org
The Rhode Island International Film Festival presents a Master Class in which the grand prize winner will have segments of the work produced and video taped. www.film-festival.org
The San Diego Film Festival collaborates with the American Screenwriters Association to present the "Selling to Hollywood" conference. Also a competition with cash and prizes and a development package.
www.sdff.org
Each February the Santa Barbara International Film Festival manages to round up all or most of the recently Oscar-nominated screenwriters for a seminar held during their festival February.
www.sbfilmfestival.org
The Sundance Film Festival is sponsored by the Sundance Institute. In addition to the annual festival, the Institute puts on a Screenwriters Lab (a five-day workshop for developing scripts) twice a year in January and June. Those chosen to participate develop their films under the concentrated guidance of veteran filmmakers and actors.
www.sundance.org

STAGED READINGS
Screenplay readings are staged by some fests, including these:
At the Atlantic Film Festival one writer will be chosen to receive a live staged full read-through with local actors at the Scrip Out Loud session during the festival.
www.atlanticfilm.com
The L.A. International Short Film Festival (L.A. Shortsfest) provides staged readings of selected screenplays by professional actors.
www.lashortsfest.com
The Slamdance Film Festival holds an annual screenplay competition and then puts on a staged reading of the winning script during the festival held each January.
www.slamdance.com
The Seattle International Film Festival presents a theatrical read-through of the winning script in the Washington State Screenwriting Competition.
www.seattlefilm.com
The organizers of the Nantucket Film Festival describe it as "a screenwriter's festival presenting features, short films, documentaries, staged readings and panel discussions." Writers are encouraged to present their films and works-in-progress and get feedback from other writers and filmmakers.
www.nantucketfilmfestival.org
The The Ohio Independent Film Festival presents a year-round screenplay reading program called Script Mill.
OhioIndieFilmFest@juno.com
In addition, the winner of the Ohio Independent Screenplay Awards will be read at the fest. www.ohiofilms.com
The Rhode Island Film Festival holds a script competition. The winning screenplay receives a staged reading at Scriptbiz, a script marketplace and seminar. www.film-festival.org
The Tribeca Film Festival develops and showcases scripts with scientific and technological themes and or characters in its Tribeca/Sloan Screenplay Program.
www.tribecafilmfestival.org
The Women's Image Network, which puts on the WinFilm Fest, conducts "WinFemme Monthlies," an industry staged reading of selected screenplays. www.winfemme.com

AWARD PROGRAMS
The Breckenridge Festival of Film gives awards to screenplays in each of four categories: Adult Drama, Comedy, Action-Adventure and Children-Family.
www.breckfilmfest.com
The Great Lakes Film Festival has a scriptwriting competition for screenplays, stage plays, and teleplays. Prizes for the winning script include $500, 2 complete passes to and accomodations at the festival. For more info go to:
www.greatlakesfilmfest.com.
The motto of the Hollywood Film Festival is: "Bridging the gap between Hollywood and emerging independent filmmakers and storytellers." Toward that end, it presents Discovery Programs and Awards. Go to:
www.hollywoodfilmfestival.com
Film Fest New Haven hosts the not-for-profit New Century Writer Awards which is open to writers of all nationalities, backgrounds and countries. Works accepted in two categories. Category I includes screenplays and stage plays. Category II includes short stories and novel exerpts. The top three prizes are cash awards for both categories I and II. Top fiction winners are also considered for publication in Francis Ford Coppola's Zoetrope All Story literary magazine. One screenplay or stage play is selected from each year's competition to be presented as a stage screenplay reading during the film festival weekend.
www.filmfest.org
The Nantucket Film Festival (see above) gives the Tony Cox Award for screenwriting, sponsored by ShowTime Networks, Inc. The winner receives a cash prize and a first-look option from ShowTime.
www.nantucketfilmfestival.org.
The Love Unlimited Film Festival and Art Exhibition hosts the Screenplay Writing Exhibition and Awards. Festival organizers say: "The theme is all screenplay writing that is directly, indirectly, literally, or symbolically related to love. This is a not-for-profit event and ticket fees to the awards and exhibition are free of charge in Portland, Oregon; Urbana, Illinois and Austin, Texas. Ticket fees in California are $20 with no one turned away for lack of funds. Over 40 awards will be given out for screenplays in over 30 different categories with a People's Choice Award held in each region. The awards welcome people of all backgrounds from all over the world. In 2011, the Screenplay writing awards will take place in Austin, Texas; Urbana, Illinois; Los Angeles, CA and Portland, Oregon." www.LoveAndDiversity.org
The Ohio Independent Film Festival awards for Best Screenplay and Best Northcoast Screenplay.
www.ohiofilms.com
The Santa Monica International Film Festival has included a screenwriting competition as part of its Moxie! Awards.
www.smff.com

SPECIALIZED AWARDS
Some competitions have been established for scripts with particular subject matter or setting:
The Asian American International Film Festival has an annual Screenplay Competition every spring where five finalists are chosen by readers and a final winner chosen by a panel of judges. The winning screenplay gets a live staged reading and Q&A with the writer during the festival, in addition to other prizes. Go to: www.asiancinevision.org/festival.html
The International Family Film Festival in Santa Clarita, California is a family-themed festival which has a showcase for screenplays that have "no gratuitous sex, violence, nudity or obscene profanity." Go to:
www.iffilmfest.org
The Flicks on 66 Wild West Digital Shootout solicits short scripts from around the world, selects the six best, then brings the writers to Albuquerque for one week in July to shoot, edit and premiere their movie. For more info, go to:
www.flickson66.com
Moondance Film Festival has an award program "to promote and encourage women screenwriters, playwrights and filmmakers." Go to:
www.moondancefilmfestival.com
WinFilm Fest (formerly the WIN Femme Film Fest), the Women's Image Networks' Film/Video/Screenplay Festival, is dedicated to promoting positive images of women in the media. Screenplays must have a positive female protagonist. They award a staged reading of the winning screenplay and hold a screenplay pitch session with film executives. For more info, go to:
www.winfemme.com
The Philadelphia Festival of World Cinema presents a "Set in Philadelphia" Screenwriting Competition. The scripts must be set primarily in the greater Philadelphia area and preference is given to "scripts which capture the spirit, characters and/or locations of the region."The winning screenwriter is awarded cash and two professionally cast readings of the screenplay.In addition, the Irene I. Parisi cash award is given to an outstanding writer under 30. Go to:
www.phillyfests.com/pfwc

AFRICAN-AMERICAN COMPETITIONS
The Hollywood Black Film Festival, held at the University of Southern California School of Cinema-Television, holds a "Storyteller Competition" for black screenwriters only. For more information call (310) 348-3942 or go to:
www.hbff.org
The IFP Market gives a cash award – The Gordon Parks Award – to an African American Screenwriter. Go to:
www.ifp.org
Urban World Film Festival holds a screenplay competition with the 5 finalists presenting staged readings at Tribeca during the festival.
www.urbanworld.org

WORKS-IN-PROGRESS
The IFP has a sidebar entitled No Borders for approximately 50 screenplays or works-in-progress in need of financing.Distributors meet with producers, directors or writers who are selected for No Borders. For more info, go to:
www.ifp.org
The Hollywood Film Festival has a market for works-in-progress.
Call (310) 288-1882 or go to:
http://HollywoodFilmFestival.com
Worldfest Houston has an entry category for unproduced screenplays.
www.worldfest.org

OTHER FILM FESTIVALS which include screenwriting awards and/or events:
Big Bear Lake Film Festival
www.bigbearlakefilmfestival.com
Carolina Film & Video Festival and Screenwriting Showcase
www.carolinafilmandvideofestival.org
Cinequest (San Jose Film Festival)
www.cinequest.org
Great Plains Film Festival
www.rossfilmtheater.org/gpff.html
Jackson Hole Film Festival
www.jhff.org
Jacksonville Film Festival
www.jacksonvillefilmfestival.com
Kern Film Festival
www.kernfilmfestival.com
Lake Arrowhead Film Festival
www.lakearrowheadfilmfest.com
New Hampshire Film Expo
www.nhfx.com
Screamfest Horror Film Festival
www.screamfestla.com
Shriekfest
www.shriekfest.com
SoCal International Film Festival
www.socalfilmfestival.com
Valley International Film Festival
www.viffi.org


Inside Film Home | News & Views | Film Fests by Month
Screenwriting | Past Articles
All Inside Film logos, artwork, stories, information and photos are
© 1997-2020 Inside Film Magazine. All rights reserved.
Do not duplicate or distribute in any form. All other logos,
artwork and photos are © their individual owners.