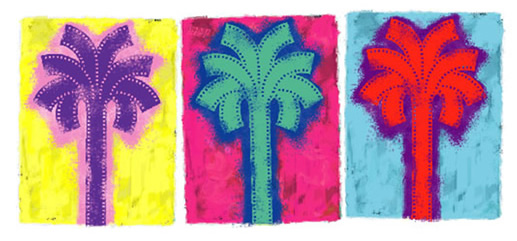 2016 Palm Springs International Film Festival will run January 1–11, 2016.
The Awards Gala is scheduled for January 2.
More info at www.psfilmfest.org

Jake Gyllenhaal Announced for 2016 SXSW Film Conference
The 2016 SXSW Film Conference (set for March 11 – 19 in Austin, Texas) will be organized into four tracks: Influencers, Creating Your Content, Finding Your Audience and What's Next. The Influencers track will include "A Conversation with Jake Gyllenhaal."
Other speakers announced include Kerry Washington, producer Sarah Green and Rami Malek of "Mr. Robot."
For more info on the 175 sessions over five days, go to www.sxsw.com.

Sundance Doc Club Presents "The Laurie Anderson Collection"
Artist/filmmaker Laurie Anderson, whose feature documentary Heart of a Dog premiered at Toronto, has guest curated a collection for Sundance Doc Club entitled "The Laurie Anderson Collection." It's available to stream now at DocClub.com.

Las Cruces Launches New Film Fest
The Las Cruces International Film Festival will make its debut March 2-6, 2016 in Las Cruces, New Mexico. The festival will honor Danny Trejo, star of the Machete trilogy.
The festival is sponsoring "Pilot Project," a TV pilot contest created by Shoot Las Cruces. Contestants my submit trailers of TV series ideas to be shown at the festival and voted on by the audience, The winner will receive $35,000 in goods, services and funding and a first look deal with Lionsgate Studios. The deadline to enter is January 15.

Screen Your Short at Slamdance
The Slamdance Film Festival and Digital Bolex have opened submissions for the second edition of their Fearless Filmmaking Showcase, a curated shorts block which will be presented during the 2016 festival in January. The submissions deadline is December 23.
Slamdance will take place January 21 – 28 in Park CIty, Utah.
More info at www.slamdance.com

Waiting for John to Have World Premiere at Hawaii Film Fest
Jessica Sherry's Waiting for John will make its world premiere on November 17 in the Pacific Showcase of the Hawaii International Film Festival.
This documentary follows the last surviving cargo cult on the Pacific island of Tanna. Cargo cults came into existence after WWII when American soldiers built airfields and landed planes on Pacific islands, the inhabitants of which had never seen such technological advancements, nor the rich cargo brought in with the planes. To this day they march in formation and raise the American flag in the hopes of the return of John Frum (believed to have been the military scout who told them the planes and cargo would arrive).
More info at www.hiff.org

American Film Market Conference Schedule Announced
The AFM Conferences will take place Friday, Nov. 6 – Tuesday, Nov. 10 at the Fairmont Hotel in Santa Monica. Some of the topics this year include:
"The Film Finance Matrix: From Script to Screen"
"Current Issues in Film Finance"
"Navigating the Festival Circuit" and
"Working with Sales Agents."

CALL FOR ENTRIES
Ongoing Deadlines
Chicago City Limits Comedy Film Fest
www.firstsundays.com
Hollywood Shorts
http://blog.hollywoodshorts.com


Inside Film Home | News & Views | Film Fests by Month
Screenwriting | Past Articles
All Inside Film logos, artwork, stories, information and photos are
© 1997–2015 Inside Film Magazine. All rights reserved.
Do not duplicate or distribute in any form. All other logos,
artwork and photos are © their individual owners.