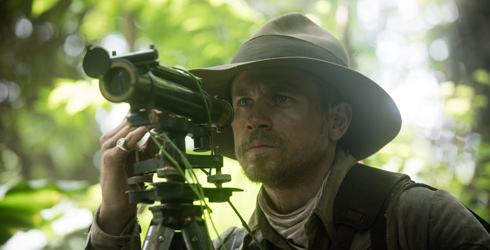 "Sons of Anarchy" actor Charlie Hunnam stars in The Lost City of Z, debuting at the New York Film Festival. Based on the David Grann book of the same name, the film (directed by James Gray) also stars Tom Holland, Robert Pattinson and Sienna Miller.

American Film Market Runs November 2 – 9 in Santa Monica
Some 8,000 film distributors, producers, buyers, financiers, filmmakers, and other members of the film industry from over 80 countries will converge on the Loews Santa Monica Beach Hotel for the annual American Film Market, running November 2 – 9.
In addition to screenings and deal-making, the AFM will present several Round Table discussions on such topics as "Distributing and Monetizing Feature Documentaries," "U.S./Europe Co-Productions," and "Working with the U.S. Guilds."
The AFM Conference schedule runs November 3 – 8 as follows:
Thursday, November 3
9:15 AM
"Producing in China"
11:15 AM
"Marketing and Distributing in China"
Friday, November 4
9:15 AM
"The 360 Degree View"
11:15 AM
"How Equity is Successfully Investing in Film"
Saturday, November 5
9:15 AM
"Pitching Essentials" and "The 2-Minute Pitch"
Sunday, November 6 – Finance Conference
9:15 AM
"Producing Studio Films with Independent Budgets"
11:15 AM
"The Film Finance Matrix: From Script to Screen"
Monday, November 7 – Production Conference
9:15 AM
"Producing for the Pre-Sales Marketplace"
11:15 AM
"Working with Talent Agents"
Tuesday, November 8 – Distribution Conference
9:15 AM
"Working with Sales Agents"
11:15 AM
"The Future of Video On Demand"
The AFM Conference will take place at The Fairmont Hotel in Santa Monica.
For more info: http://americanfilmmarket.com

CALL FOR ENTRIES
Ongoing Deadlines
Chicago City Limits Comedy Film Fest
www.firstsundays.com
Hollywood Shorts
http://blog.hollywoodshorts.com


Inside Film Home | News & Views | Film Fests by Month
Screenwriting | Past Articles
All Inside Film logos, artwork, stories, information and photos are
© 1997–2016 Inside Film Magazine. All rights reserved.
Do not duplicate or distribute in any form. All other logos,
artwork and photos are © their individual owners.