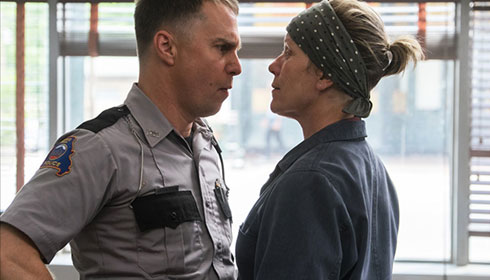 Sam Rockwell and Frances McDormand in
Three Billboards Outside Ebbing, Missouri
Sam Rockwell Receives American Riviera Award at Santa Barbara Film Fest
His performance in Three Billboards Outside Ebbing, Missouri has garnered him a Critic's Choice Award, a Golden Globe, two SAG Awards (supporting actor and ensemble cast) and an Oscar nomination.
Most recently actor Sam Rockwell was also honored with the American Riviera Award during a tribute at this year's Santa Barbara International Film Festival, now in its 32nd year. The award honors those "who have made a significant contribution to American cinema" and previous recipients include Robert Redford, Annette Bening, Jeff Bridges and Sandra Bullock, among many other illustrious actors and directors.

Cinequest Film & VR Festival Returns to Silicon Valley
The Cinequest Film & VR Festival runs Feb. 27 – March 11 in Silicon Valley. The stated mission of Cinequest is "to fuse the worlds of the filmed arts and technology to empower artists, innovators and audiences to create and connect – driving transformations and a better tomorrow."
This year's slate includes work representing 44 countries and more than a hundred World- or US-premiering films.

Willem Dafoe to Be Honored at Berlin Film Fest
Actor Willem Dafoe, Best Supporting Actor Oscar nominee for his performance in The Florida Project, will receive an Honorary Golden Bear Award at the 68th edition of the Berlin International Film Festival on Feb. 24.
This year's Jury President is German writer/director Tom Tykwer (Run Lola Run, Cloud Atlas).

Financing Forum for Kids Content to Focus on VR Storytelling for Kids
The Financing Forum for Kids Content takes place March 13 – 15 in Malmo, Sweden. The theme of Opening Industry Day will be "New Realities / New Worlds / New Experiences" and will focus on "The Realities of Storytelling for Kids in VR."
In addition to the adult professionals a new Youth Advisory Board will participate.

CALL FOR ENTRIES
Ongoing Deadlines
Chicago City Limits Comedy Film Fest
www.firstsundays.com
Hollywood Shorts
http://blog.hollywoodshorts.com


Inside Film Home | News & Views | Film Fests by Month
Screenwriting | Past Articles
All Inside Film logos, artwork, stories, information and photos are
© 1997-2018 Inside Film Magazine. All rights reserved.
Do not duplicate or distribute in any form. All other logos,
artwork and photos are © their individual owners.