GIANCARLO ESPOSITO TO BE HONORED
AT MOONDANCE 2013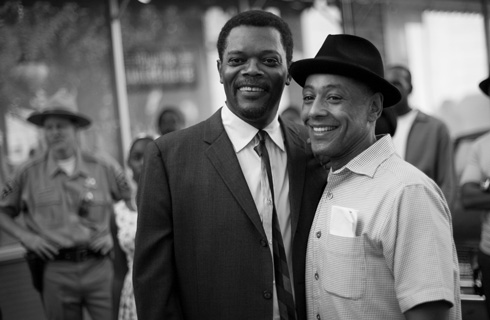 Samuel L. Jackson on set with Gospel Hill director, Giancarlo Esposito
Giancarlo Esposito, best known for his role as Gus "The Chicken Man" Fring, on AMC television's super-popular "Breaking Bad" series, for which he won the Best Supporting Actor in a Drama award at the 2012 Critics' Choice Television Awards and was nominated for an Outstanding Supporting Actor in a Drama Series award at the 2012 Primetime Emmy Awards, will appear at the screening of his directorial debut film, Gospel Hill. There will be an open Q&A session afterwards. He will receive the Moondance Living Legacy Award at the 2013 Moondance International Film Festival, in Mystic, Connecticut, Saturday, September 28.
Esposito's other TV credits include "NYPD Blue," "Law & Order," "The Practice," and "CSI: Miami." Mr. Esposito is an American film and television actor and director known for his roles in such iconic films as Do the Right Thing, The Usual Suspects, King of New York, Maximum Overdrive, Trading Places, Malcolm X, and Waiting to Exhale, and is currently appearing in the NBC post-apocalyptic TV drama "Revolution" as a Major of the Georgia Republic Military.
The Moondance Living Legacy Award is presented to "the person who has consistently demonstrated, through his or her exemplary and ongoing work in film, television, theater, writing and/or music composition, a meaningful body of work of the highest quality, to be passed down and emulated by future generations, and which will inspire others to strive toward the same excellence."
For more info, go to www.moondancefilmfestival.com

AUSTIN FILM FESTIVAL ANNOUNCES GRAVITAS VENTURES AS NEW SPONSOR FOR THE 2013 NARRATIVE FEATURE FILM JURY AWARD
Austin Film Festival has announced that Gravitas Ventures will Award the Narrative Feature Film Category winner with a Video On Demand distribution deal. Winners of the Narrative Feature Film Category will also receive a cash prize of $2,500, reimbursement for airfare (up to $500) and hotel (up to $500), for attendance of the Festival and Conference and the bronze AFF Typewriter Award.
About Gravitas Ventures
Gravitas Ventures connects independent filmmakers, producers and distribution companies to leading cable, satellite, telco and online distribution partners. For more info on Gravitas Ventures, go to www.gravitasventures.com
Austin Film Festival Film Competition Jury Update
For the 20th Anniversary Festival, AFF is assembling one of its strongest juries ever. A majority of the jury will be present at the Festival to interact with filmmakers and registrants and offer advice through Conference panels, events and parties. Scott Neustadter (writer, (500) Days of Summer, The Spectacular Now) will join the Narrative Feature Film Jury. The Narrative Shorts Jury will include David Lowery (writer/director Ain't Them Bodies Saints, writer Pit Stop). On the jury for AFF's first-ever Dark Matters Feature Competition will be Mick Garris, Executive Producer of Masters of Horror and writer of such genre classics as The Fly II, Critters 2, *Batteries Not Included and Hocus Pocus. Also on the Dark Matters jury will be Michelle Sanchez, Senior Manager of Aquisitions for Anchor Bay Films.
For more info, go to www.austinfilmfestival.com

THE AMERICAN CINEMATHEQUE AND AMITY PRESENT THE INAUGURAL INTERNATIONAL GENRE FILM FESTIVAL, "BEYOND FEST"
The Italian Prog Rock Pioneers, Goblin, will Perform Their First-Ever LA Show on October 22 at Beyond Fest.
Playing Los Angeles for the first time in their 40-year history, prog rock group, Goblin, will perform a full, live set pulled from their most iconic scores, including: Dario Argento's giallo classics Suspiria, Tenebrae, and Deep Red, and George A. Romero's seminal Dawn of the Dead. Immediately following Goblin's performance will be a rare 35mm screening of Argento's 1975 masterpiece, Deep Red.
The event will take place inside the auditorium of the Egyptian Theatre. For more info, go to americancinematheque.com

AMERICAN MUSEUM OF NATURAL HISTORY PRESENTS THE 2013 MARGARET MEAD FILM FESTIVAL:
"SEE FOR YOURSELF"
The Margaret Mead Film Festival will screen international documentary films during its 2013 program from October 17-20. Featuring indigenous community media, experimental documentaries, performances, and multi-media events, the Mead Festival "strives to illuminate the diversity of peoples and cultures from around the world and offers intimate forums for discussion with filmmakers, film subjects, and world-renowned scholars."
This year's theme is "See for Yourself," inviting audiences to discover connections between themselves and the spectacular variety of individuals, societies, and approaches to living presented in Mead films.
For more info, go to www.amnh.org

JUSTIN TIMBERLAKE TO STAR IN NEIL BOGART BIOPIC SPINNING GOLD
Foresight Unlimited has announced their partnership with Timothy Scott Bogart and Justin Timberlake in creating Spinning Gold, a biopic about legendary music exec Neil Bogart who died of cancer at the young age of 39. The script was developed by the award-winning writer and son of Neil, Timothy Scott Bogart in collaboration with Justin Timberlake.
Timberlake will star as Bogart, the man who signed such talent as Bill Withers, KISS, Donna Summer, Gladys Knight, The Village People. Bogart had a hand in the careers of many artists during the 60s and 70s and the film will begin with his childhood in the projects of Brooklyn.
Spinning Gold starts shooting early next year and will feature new renditions of some of the songs from the famous acts that Bogart signed.

ATLANTA FILM FEST IS ACCEPTING ANIMATED FILMS FOR 2014 FESTIVAL
Now in its fourth decade, the Atlanta Film Festival is one of only two-dozen Academy Award®-qualifying festivals in the U.S. The film that wins their animated shorts competition will be eligible to be placed on the Oscar Shorts list. The Atlanta Film Festival is also one of the largest and longest-running festivals in the country, showcasing 200+ new independent, international, animated, documentary, and short films.
The Festival has added a section for Puppetry for the 2014 festival saying, "ATLFF wants to be known as a 'puppet friendly' festival."
For more info, go to www.atlantafilmfestival.com

NEW DIRECTOR FOR HOLLYWOOD FILM FEST
Jon Fitzgerald, former executive director of the Slamdance Film Fest, AFI Fest, Santa Barbara and Abu Dhabi film festivals, has been named executive director of the 17th Hollywood Film Festival.
The Festival will take place at Hollywood Arclight Cinemas from October 17-21.
For more info, go to http://hollywoodfest.com

MOONDANCE FILM FEST ANNOUNCES NEW CATEGORY
The Moondance International Film Festival, running September 27 - 29 in Boulder, CO, has added a new submission category for 2013: Web Series Webisodes.
For more info, go to www.moondancefilmfestival.com

CALL FOR ENTRIES
Ongoing Deadlines
Chicago City Limits Comedy Film Fest
www.firstsundays.com
D.Film Digital Film Festival
www.dfilm.com
Hollywood Shorts
http://blog.hollywoodshorts.com
Once a Week Online Film Festival
www.youtube.com/onceaweekfilmfest

PEC Independent Film Championship
www.aivf.org/node/649




Inside Film Home | News & Views | Film Fests by Month
Screenwriting | Past Articles
All Inside Film logos, artwork, stories, information and photos are
© 1997-2013 Inside Film Magazine. All rights reserved.
Do not duplicate or distribute in any form. All other logos,
artwork and photos are © their individual owners.