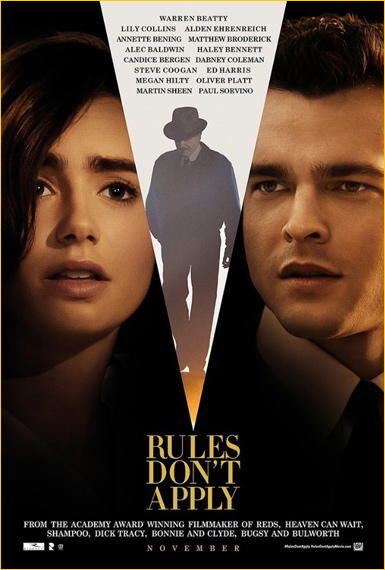 The 30th Edition of AFI Fest
To Open with Warren Beatty's
Rules Don't Apply
Warren Beatty has been off screens for awhile – the last film in which he appeared was Town & Country (2001) and the last film he directed was Bulworth (1998). Now he's back on screen with Rules Don't Apply, a screwball comedy he also wrote, directed and produced. The film is the Opening Night selection for this year's AFI Fest at the TLC Chinese Theatre in Hollywood.
Beatty (a 15-time Oscar nominee and winner for Reds) plays Howard Hughes, a character he has been considering playing for decades. But this is not a biopic. Rules Don't Apply is a fictionalized account of a young starlet (Lily Collins) who comes under contract to Hughes and gets involved with one of his drivers (Alden Ehrenreich).
The cast also includes Annette Bening, Alec Baldwin, Candice Bergen, Haley Bennett, Matthew Broderick, Dabney Coleman, Talissa Farmiga, Ed Harris, Oliver Platt and Martin Sheen.
AFI Fest takes place November 10 – 17.
– Susan Royal